The World Series is currently well underway, which means that we are just days away from the beginning of what has the potential to be a very wild MLB offseason.
Game Five of the World Series just concluded on Sunday night between the Los Angeles Dodgers and Houston Astros in what has turned into a series for the ages. With the Astros' victory, it inches us all just another bit closer to the beginning of the offseason, a moment which many look forward to with all of the rampant news and speculation.
Yu Darvish, Jake Arrieta, Eric Hosmer, Wade Davis, and J.D. Martinez. What do all of these names have in common? They will all be apart of this upcoming MLB free agent class which has left many fans clamoring at the fact that their team might be able to land one or even more of these all-stars.
This offseason should be no different from year's past. The 2017 free agent class has some of the most talented players we have seen in a few years, especially in the pitching department. With many teams having holes to fill with money to spend, it might be difficult to predict the landing spots for some of these top free agents, but it is certainly a job that can be done.
Here are potential landing spots for some of the top free agents in the upcoming class:
Yu Darvish
Yu Darvish arrived in the major leagues from Japan in 2012 and since then, he has proven himself as one of major league baseball's most dominant pitchers. For the second time in his career, Darvish will be hitting the open market and leaving teams scrambling for his arm.
In five major league seasons, Darvish is 56-42 with a 3.42 ERA and an 11 K/9 throughout 131 starts. He has been selected to four all-star teams and even finished second for the AL Cy Young award in 2013.
Looking more recently, Darvish finished the 2017 regular season 10-12 with a 3.86 ERA in 31 starts split between the Texas Rangers and Los Angeles Dodgers. This could be considered a "bad year" in Darvish's eyes, considering it was his roughest season on the mound ERA-wise since his rookie season.
Darvish was also having a pretty solid 2017 postseason for himself up until Game Three of the World Series where he surrendered four early runs and could not even make it out of the second inning. While this most likely won't affect his free agency too much, it will be a start that teams considering signing him will look at.
As for where Darvish might be a fit, all signs could point to him remaining with the Los Angeles Dodgers. Without Darvish, the Dodgers rotation would look much weaker with Rich Hill in the number two spot behind Clayton Kershaw rather than Darvish. If L.A. wants to return to the playoffs for the sixth straight year in 2018, they will need a pitcher like Darvish to help bring them there.
A few more places where Darvish could potentially fit is the New York Yankees, but only if Masahiro Tanaka decides to opt-out of his contract along with the Chicago Cubs. Both of these teams will need some depth in their rotation's heading into the 2018 season and Darvish could be a fit.
Landing Spots: Dodgers, Yankees, Cubs.
Jake Arrieta
Over the past few seasons, Jake Arrieta has solidified himself as one of the top pitchers in the National League thanks to his dominant seasons on the mound for the Chicago Cubs.
Since 2014, Arrieta is 64-29 with a 2.67 ERA and a 9.1 K/9 with a National League Cy Young award under his belt which he earned in 2015 after a historically dominant second half. However, since that spectacular second half, Arrieta's stats haven't really been trending in the right direction.
In 2016 and 2017 the right-hander hasn't been as dominant on the mound as he was the previous two seasons, with his ERA rising above 3.00 each year and even reaching 3.53 in 2017. By no means should a 3.53 ERA be considered a "bad season", but based on the money Arrieta will be demanding it is a risk many teams will not be willing to take.
What would make sense for all parties involved is if Jake Arrieta remained with the Chicago Cubs. The Cubs rotation is weak with him, one could only imagine how far it would sink down if he departed to go pitch somewhere else. It will cost them a pretty penny to keep the right-hander on board, but it must be done.
Some other locations where Arrieta could potentially find a home are with the Los Angeles Dodgers and New York Yankees, who both will most likely be looking for starting pitchers in this offseason's free agent market.
Landing Spots: Cubs, Dodgers, Yankees.
Eric Hosmer
Eric Hosmer is a name that all baseball fans should be familiar with, not only is a World Series champion, but he is also one of the most clutch and talented players throughout the game.
In 2017, Hosmer had undoubtedly the best season of his career when he slashed .318/.385/.498 with 25 home runs and 94 RBIs for the Kansas City Royals. He had the highest batting average, on-base percentage, and slugging percentage of his career while tying his single-season career-high for home runs.
Not to mention, the left-handed slugger is solid with the glove at first base as well with three gold gloves to his credit. Hosmer is still only 27 years old despite playing with the mentality of a seasoned veteran, most likely due to his experience of already playing in two World Series', an all-star game, and the World Baseball Classic.
The spot where it would make the most sense for Hosmer to land is with the Boston Red Sox. For the most part of 2017 the Red Sox offense looked undeniably weak due to the loss of left-handed slugger David Ortiz, Hosmer could fill this void. Boston has money to spend and an empty spot at first base due to the expiration of Mitch Moreland's contract.
A few other teams who are in need of a first baseman where Hosmer could fit are his own Kansas City Royals, who might not be willing to give him the money he wants, and the St. Louis Cardinals.
Landing Spots: Red Sox, Royals, Cardinals.
Wade Davis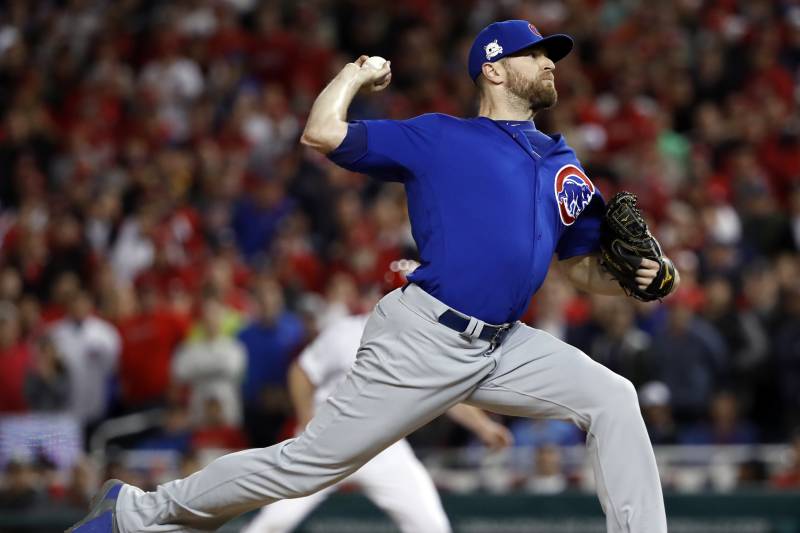 One of the few solid relief pitchers in this year's free agent market is Chicago Cubs closer, Wade Davis. Since being converted to a reliever, Davis has been one of the best back-end of the bullpen pitchers in all of baseball with much of his success being accredited to his nasty cutter.
Davis was moved to the bullpen from the rotation in 2014 when he became Greg Holland's set-up man for the Kansas City Royals and has not looked back since. Since 2014, Davis is 23-6 with a 1.45 ERA with 79 saves and an 11.7 K/9. Over these past four seasons, the right-hander has been selected to three all-star teams and has finished in the top 10 for Cy Young award voting twice.
2017 could be considered a "down year" for the closer while he sported a 2.30 ERA with 32 saves, which is most likely a result of him just adjusting to pitching in the National League after being in the American League for the entirety of his major league career.
It would be absolutely foolish for the Cubs to let Davis go, especially with their bullpen being in the shape it is in as well as their not being any other arms to choose from on the free agent market. They better be throwing all of the money they have at Davis if they want to take the National League Central division once again in 2018.
Other than Chicago, some other places Davis could possibly make a fit are with the Houston Astros and Washington Nationals, who will both be in the market for relief pitching depth this winter.
Landing Spots: Cubs, Astros, Nationals.
J.D. Martinez
J.D. Martinez had quite the season to remember in 2017, particularly due to his time with the Arizona Diamondbacks after being traded there at the trade deadline. He made an impact even greater than the one we saw Yoenis Cespedes made for the Mets after being traded to Queens in 2015.
2015 was the season where Martinez truly made a name for himself throughout baseball, where he slugged his previous career-high 38 home runs and earned the first all-star selection of his career while also winning an American League silver slugger award.
Injuries got the best of Martinez in 2016, but last season he returned as a man on a mission. In just 119 games, Martinez slugged 45 home runs with 104 RBIs and sported a .303/.376/.690 slash line, solidifying himself as one of baseball's biggest sluggers.
There are many teams out there who will be craving Martinez's bat, but only a few make sense. The team that makes the most sense is the Arizona Diamondbacks, especially considering how he was one of the main reasons the club was able to make it all the way to the NLDS in 2017. Losing his bat could be detrimental to their offense heading into the future.
Some other clubs in need of a big bat where Martinez could potentially land include the New York Mets and San Francisco Giants, who both have money to spend this offseason.
Landing Spots: Diamondbacks, Mets, Giants.